RADIO STREAMING
Rockin' 101 is online and mobile. You can listen wherever you are as long as you have your computer or mobile device and an internet connection (iPhone, Blackberry Storm or Windows Mobile).
ANDROID USERS:
Our regular streaming provider doesn't support android phones...however...There's a great app that we found for Android phones at www.tunein.com that carries our live stream. By the way is also supports iPhone, iPad, Palm, Blackberry, Samsung Bada, Yahoo TV, Google TV and Roku.
MOBILE USERS: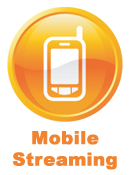 Click Mobile Streaming button to the left to begin listening to Rockin' 101 on the go with your iPhone, Blackberry Storm or Windows Mobile device.
MAC USERS:
In order to listen to Rockin' 101's streaming player on a Macintosh computer, you'll need to install the Windows Media Components for QuickTime, a free plugin that allows for the viewing and listening of Windows Media content on a Macintosh.
FIREFOX USERS:
Mozilla Firefox doesn't automatically notice the built-in Windows Media Player browser plugin.

To fix this, you can download a small plugin at this link which will allow Firefox to function just as Internet Explorer does with the SecureNet Systems streaming player.
You might need to install Windows Media Player if you don't already have that installed on your computer. Click here and select Windows Media Player for the version of Windows you are currently using.